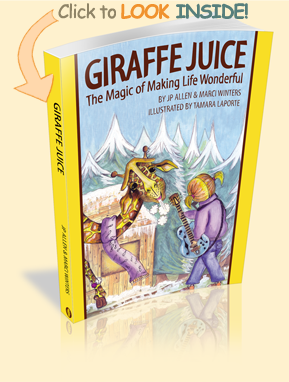 About Giraffe Juice
Giraffe Juice will offer you or someone you love a fun introduction into the wonderful world of Nonviolent Communication (NVC).
Ages 8-12 and most adults enjoy it too.
Quick Synopsis: Giraffe Juice is a story about Eva Cassidy, a twelve-year old guitar-playing and harmonica-jamming girl who can make musical notes do wonders. But when it comes to getting Jip Jackal to stop bullying her at school, she doesn't know where to start. Then one day Eva discovers a secret that changes everything.
Would you like to know a secret to making peace with people who are hard to get along with? Here's a clue: It's a secret you probably already know, but sometimes may forget. More About Giraffe Juice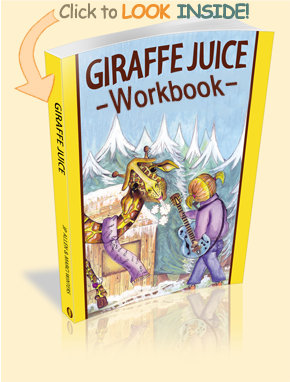 What Is the Giraffe Juice Workbook?
We created the Giraffe Juice Workbook to offer a fun and entertaining way for parents and teachers to share Nonviolent Communication (NVC) with young people (we had the ages 8-12 in mind). It can be enjoyed at home or in the classroom as a companion workbook to Giraffe Juice: The Magic of Making Life Wonderful.
Either book can be read first, as a complement to the other.